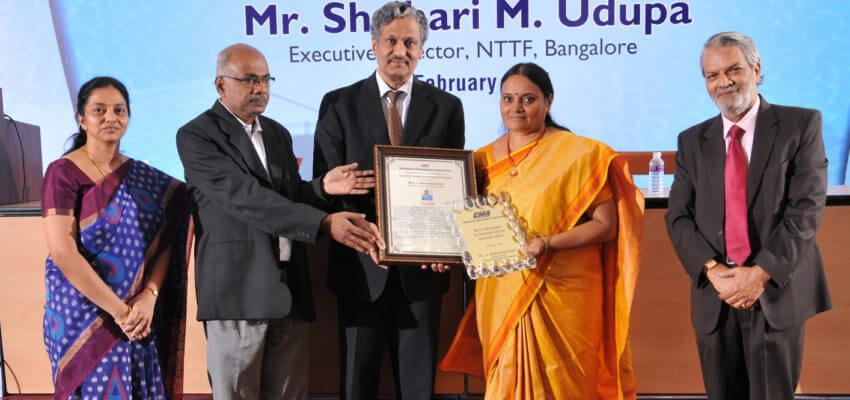 Kayjay Sharp Trendys is an ISO 9001: 2015 company and most of the pumps are approved by BIS – Bureau of Indian standards. It has standardized the quality of its products and obtained the license for the stamping of prestigious ISI Mark for most of its Monobloc pumps from Bureau of Indian Standards way back in the year 1992 and also ISO certification from DNV in the year 2000. Propelled by the desire to excel in Quality and to meet the International standards, the company has upgraded the quality and service with sharpened skills.
In the very first year of its venture, the company contributed a valuable and substantial foreign exchange for the country. It has brought the stamp of a global presence for Sharp Monobloc Pumps. Kayjay Sharp Trendys domestic pumps are manufactured in Automated Assembly Line, Statistical Quality Control and Superior Quality Winding by micro computerized control automated winding machine and backed by Research & Development as well as strong Marketing network. Despite many challenges "Kayjay Sharp Trendys Is Committed to Meet Product Excellence and Customer Satisfaction".
QUALITY POLICY
Kayjay Sharp Trendys is committed to customer satisfaction by supplying and servicing pumps of reliable quality and performance through continual improvement of its system and processes.
AWARDS & RECOGNITION
The company has received All India Trophy for the Highest Exporters for the year 2001 – 2002. The company also has received "The Star Performer Award" for two successive terms during 2004 – 2005 and 2005 – 2006.
At present Sharp products are manufactured using CNC Machines, Automated (Computer Controlled) Coil Winding Machines, Automated Assembly Line, and Computerized Pump testing equipment for recording 100% actual performance of each and every pump manufactured. This enables the company to say with confidence that its products are reliable offers true value for money.
SO MUCH WE HAVE INSIDE OUR KAYJAY SHARP TRENDYS PUMPS THAT TOO FOR A REASONABLE PRICE
SKF BEARING

NOISELESS LIFE LUBRICATION

EXCESS NOISE POLLUTION & COIL BURNING

STAINLESS STEEL SHAFT

RUSTFREE AND HYGENIC

UNHYGIENIC & PUMP FAILURE

FORGED BRASS IMPELLER

LEAD FREE FOR GOOD HEALTH

LEAD POISONING & INFECTION

THERMAL OVERLOAD PROTECTOR

TO PROTECT FROM VOLTAGE FLUCTUATION & PREVENTS OVER HEATING

FREQUENT COIL BURNING & OVER HEATING

MECHANICAL SEAL

TO PREVENT COIL BURNING DUE TO WATER ENTRY FOR EVER & INCREASES PUMP LIFE

DAMAGE OF SEAL & COIL BURNING

POWER CONSUMPTION

SAVE POWER BILL

HEAVY POWER BILLS

COMPUTERIZED TESTING

EACH PUMP IS TESTED FOR ACCURACY WITH PERFORMANCE CHART

MANUAL TESTING INEFFECTIVE

SEAL OF GUARANTEE

UNIQUE HOLOGRAM TO ESTABLISH ORIGINALITY

DUPLICATES MAY BE MISTAKEN FOR ORIGINAL
TRULY ORIGINAL
REAL VALUE FOR MONEY